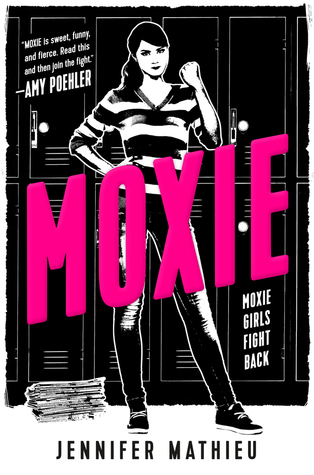 Moxie girls fight back!
Vivian Carter is fed up. Fed up with her small-town Texas high school that thinks the football team can do no wrong. Fed up with sexist dress codes and hallway harassment. But most of all, Viv Carter is fed up with always following the rules.
Viv's mom was a punk rock Riot Grrrl in the '90s, so now Viv takes a page from her mother's past and creates a feminist zine that she distributes anonymously to her classmates. She's just blowing off steam, but other girls respond. Pretty soon Viv is forging friendships with other young women across the divides of cliques and popularity rankings, and she realizes that what she has started is nothing short of a girl revolution.
Ever since I heard about this novel I have been waiting, very impatiently, for it to be released. In a time when the party in the White House is fronted by a man who proudly stated, when talking about women, to "Grab 'em by the Pussy," this novel for young adults couldn't be coming at a better time. I have high hopes that Mathieu's novel will show that a movement can start in the simplest way and every action makes a difference.
The positives of this novel are almost unending because I loved all of it.  I did feel like there were certain parts or discourses happening between the characters that seemed a little awkward ONLY because I know that Mathieu was trying to get in the standard conversation about feminism and what feminism means into the narrative, so I forgive that really easily.
Moxie includes the version of feminism that we all should subscribe to: all inclusive and unapologetic.
Thank you so much to Mathieu, especially, for including links in the acknowledgements for those coming newly to feminism to visit for more information, and for all of those links being inclusive of women of all races, religions, sexual orientations, and sexual identities. It's important to remember that feminism isn't true feminism unless it is intersectional.
I love Viv for being everything I wish I could have been in high school. I wish I had stood up to the patriarchal bullshit that meant the male sports received all of the support, that men didn't have to subscribe to the dress code, and that their sarcastic comments were ignored while the girls were disciplined for saying anything remotely crass.  Needless to say I identified with Viv and the Moxie girls on a deep level. I played on the high school softball team that played in old uniforms and on an old baseball field with plastic "fences" brought in to mark the end of the field instead of an actual chainlink fence, so the plight of the soccer team in this book brought back some memories.
Seth, oh sweet Seth who I like to pretend was named after Seth Cohen in The O.C., I loved that Mathieu made him learn the hard way that you can be a feminist and still not recognize your privilege as a male. He learned a lot in the book, and was a superb love interest, but I think it was SO imperative for that dynamic to be represented here.
I loved this book so much and I wish SO MUCH that this had been out when I was still a teenager.
5 Bards
Check out Team Midsummer's 67 Questions with author Jennifer Mathieu, too!