Top Ten Tuesday is a weekly meme hosted for us book blogger types by the Broke and the Bookish. They provide a topic, and all of us participants post our answers on our blogs and we hop around checking out one another's answers! This week's topic is:
Top Ten Books You Recently Added to your To-Be-Read List
1. The Winner's Curse & The Winner's Crime by Marie Rutkoski
I woefully admit that I am just now adding these novels to my TBR list.  Why now? Well, to be honest I never really looked into the synopsis and now I am regretting not trying to get my hands on these books earlier!
2. The Boy Most Likely To by Huntley Fitzpatrick
I never read the first book, My Life Next Door, but I suppose I'll add that to my TBR now too!  This is a companion novel, so I don't think I'd necessarily have to read the first one, but after reading both of the synopses I really think I've been missing out.
3. Carry On by Rainbow Rowell
This is an obvious add to my list because I absolutely adored Fangirl and I can't wait to read more of the fanfiction that was interspersed throughout that novel.
4. The Sin Eater's Daughter by Melinda Salisbury
THAT COVER. I know, I totally added it originally because the cover is absolutely gorgeous but the narrative sounds pretty amazing too. This is definitely going to be one of the books I pick up first.
5. Illuminae by Amie Kaufman
New science fiction!
6. The Wrath and the Dawn by Renee Ahdieh
Super excited about this adaptation, and it has actually been on my radar for a while but for some reason I never actually put it on my TBR shelf on Goodreads!  I think this book is going to be even better because it will help with the increase in diversity among YA titles.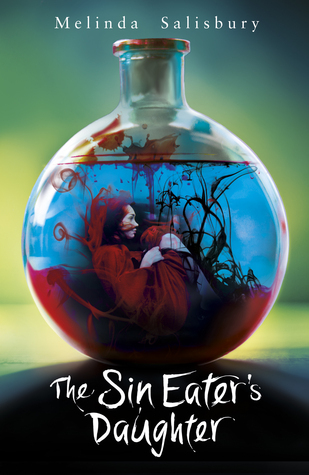 7. Daughter of Deep Silence by Carrie Ryan
Adored Ryan's zombie series, The Forest of Hands and Teeth, so of course I want to get my hands on this new series!
8. Blood and Salt by Kim Liggett
There is a commune/cult involved in this story. That's all you need to know.
9. The Devil You Know by Trish Doller
Roadtrip triller? Count me in.
10. Things We Know by Heart by Jessi Kirby
I'm definitely trying to read more Contemporary fiction, especially since there has been a big shift towards realistic fiction in the past year.  I really like the idea of this novel, it sounds a bit complex, especially with the aspect of a donor heart being involved.
What other books should I add to my TBR list?!