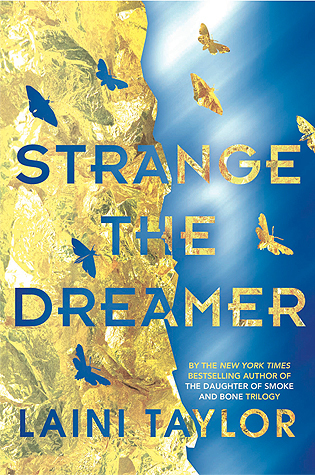 The dream chooses the dreamer, not the other way around—and Lazlo Strange, war orphan and junior librarian, has always feared that his dream chose poorly. Since he was five years old he's been obsessed with the mythic lost city of Weep, but it would take someone bolder than he to cross half the world in search of it. Then a stunning opportunity presents itself, in the person of a hero called the Godslayer and a band of legendary warriors, and he has to seize his chance or lose his dream forever.
What happened in Weep two hundred years ago to cut it off from the rest of the world? What exactly did the Godslayer slay that went by the name of god? And what is the mysterious problem he now seeks help in solving?
The answers await in Weep, but so do more mysteries—including the blue-skinned goddess who appears in Lazlo's dreams. How did he dream her before he knew she existed? And if all the gods are dead, why does she seem so real?
First things first: THIS BOOK WAS AMAZING. I loved this book so much that I ended up dedicating an entire BookTube video to making Strange the Dreamer themed cupcakes while I talked a bit about what I liked so much about the novel.
Check it out below and subscribe to our YouTube channel for more fun videos!
Now, let's get to the meat of the review.
As I mentioned in the review, I fell in love with Lazlo himself within the first few chapters of this book. How pure and wonderful is my tall crooked-nosed son with his love for reading, learning, and dreaming (see what I did there?)? Lazlo may not have any idea about his heritage, but unlike some book characters, this doesn't weigh him down with questions of "who am I," "what is my purpose in life," etc.  I think his acceptance of that, or even the fact that he doesn't consider it to be a problem in his life, is what makes him such a humble and caring character that helps those who need it without expecting anything in return.
Speaking of those people who probably should given him something in return, I was extremely irritated by the golden godson and all of his nonsense.  I found myself eye-rolling through a bunch of his scenes, which is exactly what I think Taylor intended, but still. I'd kick him in the shin if I could.  At least he does have intelligence, although we all know that he wouldn't be able to do anything without help from the best crooked-nose librarian there is (this isn't spoilery…well, kind of).
I've read some reviews where people found the pacing a bit slow at the beginning, but I didn't find this a problem at all.  I really loved the development of Lazlo as a character, and while I do think it would have been fun to see more of the journey from their home to Weep, I know this wasn't the point of the novel.  However, the action does pick up significantly after the arrival of Lazlo and the other characters to the mythical Weep, so even if you are struggling to get to that point, push through it! I promise it's worth it.
Since I was so fond of Lazlo and his character development, I must say that the only one of the Godspawn that I truly felt connected to, and I'm sure this is because Sarai was the other point of view in the novel, was Sarai.  She is such a complex character with an odd gift, to say the least, but it allows her to grow and have empathy for humans in a way the others don't.  This becomes a major plot point as well.  But the others kind of felt almost like unnecessary background noise (all except Minya, of course), but I anticipate they will play a much larger part in the second book.
I loved this book and I cannot wait to pick it back up again and read carefully for clues about the twist at the end.
5 Bards!