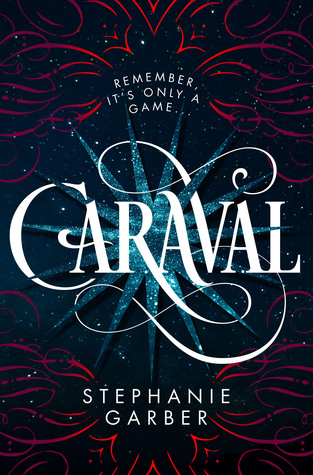 Scarlett has never left the tiny island where she and her beloved sister, Tella, live with their powerful, and cruel, father. Now Scarlett's father has arranged a marriage for her, and Scarlett thinks her dreams of seeing Caraval, the far-away, once-a-year performance where the audience participates in the show, are over.
But this year, Scarlett's long-dreamt of invitation finally arrives. With the help of a mysterious sailor, Tella whisks Scarlett away to the show. Only, as soon as they arrive, Tella is kidnapped by Caraval's mastermind organizer, Legend. It turns out that this season's Caraval revolves around Tella, and whoever finds her first is the winner.
Scarlett has been told that everything that happens during Caraval is only an elaborate performance. But she nevertheless becomes enmeshed in a game of love, heartbreak, and magic with the other players in the game. And whether Caraval is real or not, she must find Tella before the five nights of the game are over, a dangerous domino effect of consequences is set off, and her sister disappears forever.
Release Date: January 31, 2017
Holy Hell in a hand-basket.
Stephanie Garber has created a world that I don't want to leave, and characters I want to follow throughout their life stories.
I started this book on 9PM on a Sunday night, after I'd been sick for a week and sleeping as much as possible to get over it.  Once I started, I couldn't put it down.  I found myself saying, "One more chapter," okay, "Now, one more chapter," over and over again until it was 1AM and I closed the book with a sigh. This doesn't include the extra 30 minutes I sat there considering the ending and the complications that came along with it. I think in reality I maybe got 5 hours of sleep this night, but what is important is that I LOVED this book.
This world was created in such an organic way that nothing in the plot seemed like it was out of place or sudden.  Not only was Caraval such a richly developed story but the description of the characters and the locales within the novel were exquisite. I wish I could have seen the canopy bed in Scarlett's room, had a sip of that crisp cider that enhances vision, or even run my hands over the gowns in the store where she sells two days of her life.
While I was totally proved wrong about who I assumed Julian was from the beginning (*shakes fist* tricky Garber, tricky!) he was a great example of a male character who comes off as such a…how to I put it…douchebag that really turns out to be a character with so many more layers than initially shown.  In fact, he was the saving grace for Scarlett (and the narrative) in many spots.
Probably an unpopular opinion: Dante? *fans self* A body covered in tattoos and a beautiful face to boot? *swoons*
Now, as someone who has had a struggle with her relationship with her sister (we are doing so much better as we've aged, by the way *Love you, Ginger!*), I think that for me what really made this story so impactful was the demonstration of absolute love and devotion between the two siblings.  Obviously it seems very one sided at the beginning as it is third person limited point of view, but the reader discovers it is a very equal love and something that both sisters suffered for.
All I can think of as I remember my mind blowing and wonderful late night read is that this is a story that I will come back to and re-read many times. Plus, who wouldn't want to lose themselves in a fantasy world with Scarlett, Julian, and Tella?
**Trigger warning for parental physical abuse**
Pre-order a copy of Caraval now, I promise you won't regret it.
4.5 Bards