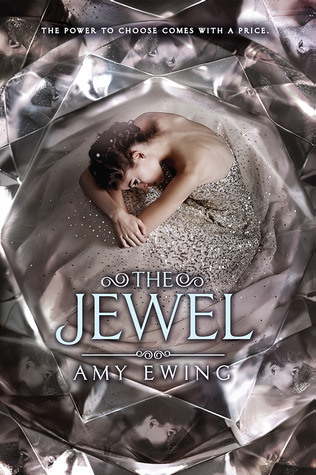 The Jewel means wealth. The Jewel means beauty. The Jewel means royalty. But for girls like Violet, the Jewel means servitude. Not just any kind of servitude. Violet, born and raised in the Marsh, has been trained as a surrogate for the royalty—because in the Jewel the only thing more important than opulence is offspring.
Purchased at the surrogacy auction by the Duchess of the Lake and greeted with a slap to the face, Violet (now known only as #197) quickly learns of the brutal truths that lie beneath the Jewel's glittering facade: the cruelty, backstabbing, and hidden violence that have become the royal way of life.
Violet must accept the ugly realities of her existence… and try to stay alive. But then a forbidden romance erupts between Violet and a handsome gentleman hired as a companion to the Duchess's petulant niece. Though his presence makes life in the Jewel a bit brighter, the consequences of their illicit relationship will cost them both more than they bargained for.
Not going to lie, when I picked up a copy of this book at BEA I knew that it was going to be a book I'd have to read as a reviewer and as a Children's Lit person, but I was not expecting to enjoy this as much as I did.
First things first, I had a wonderful Twitter conversation with Ewing where we bonded over our mutual obsession of cheese and what kind of wine goes with certain books.  (My answer is always a good Cabernet or Zinfindel) Anyway, so when I did decide to read this novel, I had a big glass with me.  It wasn't long until I eventually neglected my wine because I was too engrossed in the narrative.
Either way, the basic structure of the story is that there is a section of upper-class royalty, if you will, that can no longer produce children or heirs due to the ridiculous amount of incest and intermarrying that happened at the top in order to keep the royalty pure.  Which is ironic considering the minefield that evidently became of their genome.  Now, there have been other books that use this trope, like the Eve trilogy by Anna Carey and the Bumped books by Megan McCafferty, but The Jewel was much more.
Ewing's crowning jewel (see what I did there?) of the novel is the inclusion of the ultimate question concerning children: nature vs nurture.  Now there is a tad bit of paranormal activity here in this part of the novel, which I thought was extremely original considering I haven't read any type of dystopian YA fiction that uses that idea.
Also, kudos to Ewing for using the Dystopian genre for the commentary on society and the vast difference between the upper and lower classes, even if it is something that is examined widely in the genre.  I can appreciate this argument, as a Marxist, and think it would be a lot of fun to do a rebellion and alienation argument on this series if it continues to be as good as this first installment.
Overall, I have to tell you that there are some character reveals that you don't expect and some very sad parts of the story that really tugged at my heartstrings. This book was a joy to read and while I still have to wait for the second installment of The Lone City series, there is a novella coming out in November, so at least I'll get a fix.
5 Bards for you, Amy Ewing. You go, Amy Ewing. (P.S. Can I pick your brain about Marxist theory and your narrative?)