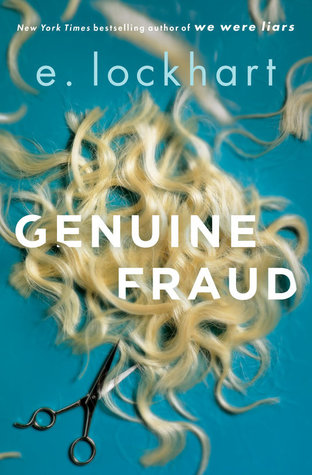 The story of a young woman whose diabolical smarts are her ticket into a charmed life. But how many times can someone reinvent themselves? You be the judge.
Imogen is a runaway heiress, an orphan, a cook, and a cheat.
Jule is a fighter, a social chameleon, and an athlete.
An intense friendship. A disappearance. A murder, or maybe two.
A bad romance, or maybe three.
Blunt objects, disguises, blood, and chocolate. The American dream, superheroes, spies, and villains.
A girl who refuses to give people what they want from her.
A girl who refuses to be the person she once was. 
I am a massive fan of We Were Liars by E. Lockhart (Click the title to read my 5 Bard review)  so when Random House announced Genuine Fraud I was over the moon excited.
I can honestly say that I did not expect this book. Anything about it. It has everything that I love about some of my favorite classic novels:
An unreliable narrator (Example: Wuthering Heights)
Nonlinear Narrative (Example: Wuthering Heights) ***Look, I really love Wuthering Heights
Intrigue (Many classics)
I could go on, but those are the basics that I am referencing. Lockhart is literally the queen of unreliable narrators in my book, because Jule and Cadence are similar only in their nonlinear unreliableness, but I love them both because of this and much more. Jule is much more hardened than Cadence and she spun so many lies and stories throughout this book that I found my head spinning but wanting more.
There are some incredibly hard things to read in this book and some of the plot points mentioned in the synopsis definitely happen.  Why yes, Murder is a part of the narrative (all True Crime fans rejoice!) and so are some doomed romances. Plus, Jule and Imogen get to visit some amazing places and have some epic experiences.
This is not one to be missed. I read it in 5 hours of sitting out in the sun on the beach, but I would have sat and read it in one sitting regardless.
Much like my review of We Were Liars, I can't say much without giving a ton away!
Thank you, E. Lockhart, for doing it again.
4.5 Bards.