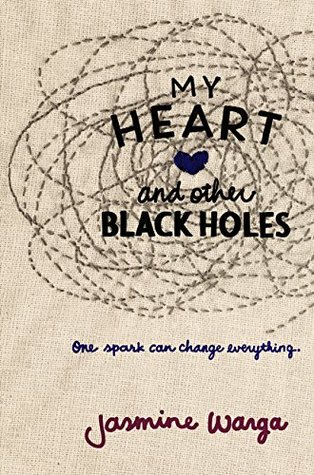 Sixteen-year-old physics nerd Aysel is obsessed with plotting her own death. With a mother who can barely look at her without wincing, classmates who whisper behind her back, and a father whose violent crime rocked her small town, Aysel is ready to turn her potential energy into nothingness.
There's only one problem: she's not sure she has the courage to do it alone. But once she discovers a website with a section called Suicide Partners, Aysel's convinced she's found her solution: a teen boy with the username FrozenRobot (aka Roman) who's haunted by a family tragedy is looking for a partner.
Even though Aysel and Roman have nothing in common, they slowly start to fill in each other's broken lives. But as their suicide pact becomes more concrete, Aysel begins to question whether she really wants to go through with it. Ultimately, she must choose between wanting to die or trying to convince Roman to live so they can discover the potential of their energy together. Except that Roman may not be so easy to convince.
I can tell you that I've been struggling to really find a good contemporary young adult novel to really kickstart my interest.  I tend to be more interested in fantasy, science fiction, and fairy tale adaptations.  Nothing against contemporary, but I even tend to prefer historical YA over anything set today.  Maybe it's because I'm just living in today and it seems a bit dull, but Warga's novel really gave me a push into understanding why contemporary fiction can be so important.  Now I haven't been living under a rock, so I've read YA books that deal with mental illness before (primarily books about teens suffering from Eating Disorders), but the only other contemporary novels I've read that feature the treatment of mental illness or anything like that were by Sarah Dessen.  Even then, it wasn't a main topic of the narrative.
Well, now that I've bored you a bit with the ramblings of a book reviewer, I can start the (actual) review:
Warga's novel doesn't skirt around the fact that the main character is depressed and suicidal. (It is in the synopsis, btw) But the straightforwardness, not only of the main character, but of the narrative itself is quite refreshing.  I enjoyed the depressed, but thoughtful, voice of Aysel.  She was contradictory, she was absolutely quizzical, she was endearing, she was frustrating, and she felt so REAL.  Roman, also known as FrozenRobot, was a bit more flat as a character, and I found him a bit irritating through a lot of the narrative.  He was just so absolutely determined and seemed to be offended anytime Aysel expressed any type of possible thought that may have been toward the future.
I really appreciated how Warga depicted how depression can manifest in different people in different ways.  Aysel, for instance, was an outcast due to the actions of her father and how the public perceived her in relation to those actions.  This was a contributing factor to her depression, and it resembles a basic "warning sign" of depression.  Roman, on the other hand, isolated himself from his fellow popular friends and even quit playing a sport he loved as a form of punishment. This also led to him being alone with his thoughts.  I loved that both characters had very distinct aspects of their depression, but I appreciate and applaud Warga's ability to not glamorize suicide and suicidal thoughts.  It is important to seek help for these thoughts, and I really liked that the publisher and author included a lot of resources in case readers need to reach out.
Now, to Warga, it was absolutely inspired to use physics and energy in this.  Not only did it speak to me as a former Science major, but also as a current (not so secretive) science nerd.  Brilliant.  I refuse to give away any of the quotes or aspects of this from the story because it really just made My Heart and Other Black Holes even more heartfelt and enjoyable.
I leave you with one of (that's right, ONE OF) the dozens of memorable quotes from this story:
"I wonder if that's how darkness wins, by convincing us to trap it inside ourselves, instead of emptying it out."
Kudos to you Jasmine Warga, for really showing me that contemporary young adult fiction is not something to be underestimated.
4.5 Bards.