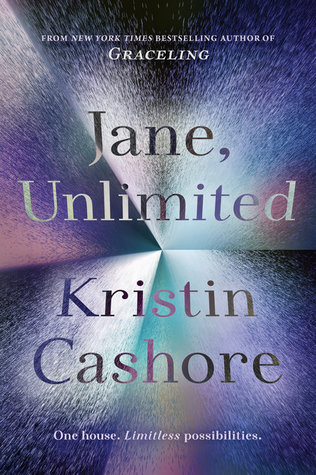 Jane has lived an ordinary life, raised by her aunt Magnolia—an adjunct professor and deep sea photographer. Jane counted on Magnolia to make the world feel expansive and to turn life into an adventure. But Aunt Magnolia was lost a few months ago in Antarctica on one of her expeditions.
Now, with no direction, a year out of high school, and obsessed with making umbrellas that look like her own dreams (but mostly just mourning her aunt), she is easily swept away by Kiran Thrash—a glamorous, capricious acquaintance who shows up and asks Jane to accompany her to a gala at her family's island mansion called Tu Reviens.
Jane remembers her aunt telling her: "If anyone ever invites to you to Tu Reviens, promise me that you'll go." With nothing but a trunkful of umbrella parts to her name, Jane ventures out to the Thrash estate. Then her story takes a turn, or rather, five turns. What Jane doesn't know is that Tu Reviens will offer her choices that can ultimately determine the course of her untethered life. But at Tu Reviens, every choice comes with a reward, or a price. 
This whole book is basically the episode of Doctor Who, Season 4, Episode 11 "Turn Left." Each decision has a specific reaction that could change the outcome of the universe and Jane, Unlimited takes that idea to 5 different extremes.
At first glance, Cashore's novel seems like a fun romp of an orphaned girl going to a private island with her rich acquaintance to get away from the hardships of every day life.  But it becomes so much more than that
once the first part's introduction is done.
This is a spoiler, so if you are looking for non-spoilery…I'm sorry, I find it almost impossible to review this book properly without being able to explain a certain aspect of the plot.  That is the theory of the multiverse.
Cashore does an excellent job creating what could be almost 5 separate novels based on one decision by Jane toward the beginning of the book.
Jane is a complex and yet somehow still simple character. I love that the umbrellas she creates represent her need to protect herself from the outside world that robbed her of her parents and her aunt. It's excellent.
I think the crowning achievement in this is that the ending makes it seem like it is up to the reader to decide which ending is THE ending, if that makes sense.  Sure, there is the last scenario in the possibilities as explained in the novel, but it isn't definitive that this is the clear ending. I love it.
I know this novel is probably going to be divisive between Cashore fans and those readers who haven't read her previously, because of the nature of the narrative.
However, for my purposes I'm giving this book 4 Bards. It has romance, diversity, intrigue, fantasy, and so much more.
Give it a shot, I promise it will be an interesting read.