We here at A Midsummer Night's Read really enjoy a good book that will keep you on your toes and maybe even give you chills, so of course we jumped at the chance to join in on Penguin Teen's WICKED READS campaign.  This means that this week, I will be featuring the creepy books that I have enjoyed to help count down to Halloween this Saturday!
Welcome to WICKED READS!
Does any one else remember these books?  I remember ordering them from the Scholastic book fair back in Elementary school, and I also remember throwing the books in my closet after reading one of their particularly scary entries.  What was your favorite scary book as a kid?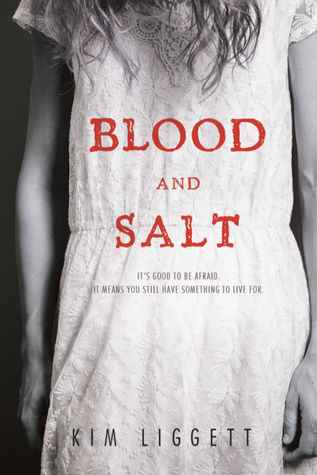 "When you fall in love, you will carve out your heart and throw it into the deepest ocean. You will be all in—blood and salt."
These are the last words Ash Larkin hears before her mother returns to the spiritual commune she escaped long ago. But when Ash follows her to Quivira, Kansas, something sinister and ancient waits among the rustling cornstalks of this village lost to time.
Ash is plagued by memories of her ancestor, Katia, which harken back to the town's history of unrequited love and murder, alchemy and immortality. Charming traditions soon give way to a string of gruesome deaths, and Ash feels drawn to Dane, a forbidden boy with secrets of his own.
As the community prepares for a ceremony five hundred years in the making, Ash must fight not only to save her mother, but herself—and discover the truth about Quivira before it's too late. Before she's all in—blood and salt.
As soon as I read the synopsis for this novel, which was a long time ago before it was released or even before it had a cover, I knew that I had to get my hands on a copy of this book as soon as I could.  Luckily, I was able to reach out to the author and expressed my extreme interest in her novel, and somehow found myself in contact with the publisher. Less than two weeks later, I had a beautiful copy of this book in my hands.
First off, maybe I should give you a few buzz phrases that can describe this book: Creepy, Cult, Ghosts, Bloody. I devoured this book in a matter of hours.  Sure, there are a few things that could have been done better, as there are in any book, but on the whole I found this book to be a really entertaining.
I really enjoyed the magical realism in this novel, and I like the fact that there really isn't any true type of explanation for it.  It makes the ideas much more intriguing.  I do, however, wish there had been much more of a reason for the audience to really understand the pull of the corn and the entire aspect of the ceremonies going on within this little cult.  Although the characters are quick to dismiss that this is a normal cult, and both Ash and her brother Rhys are drawn in fairly easily with little to no argument.
The only thing that I found super creepy was this bloody woman that kept appearing to the main character in many precarious situations.  I wasn't too scared by the corn, or how the corn seemed to dictate what exactly was happening within the little city, but I understand what Liggett was trying to do here.  Evidently a lot of people made some connections between this novel and "Children of the Corn," but I've never seen that so I don't really see the parallels that other reviewers have pointed out.
I'm never really a fan of insta-love or anything like that, but I did actually enjoy the romance aspect of this novel and found Dane to be a super jerk by the end of the novel.  I'm not going to give away why!
Overall this is a good read for creepiness right here at Halloween!
4 Bards!