Please welcome the newest member of Team Midsummer: Leia! Leia and Jess both grew up in the suburbs of Charlotte, NC but didn't meet until they were both students at East Carolina University. After serving as Orientation Assistants during the summer of 2008, they stayed in touch. Give a big welcome to her and help us celebrate her first official review:
Leia holds her Ph.D. in Educational Foundations and Inquiry and is currently a professor of Educational Research. She has been an avid reader for as long as she can remember, and is absolutely obsessed with everything Potter. Her favorite book series include Harry Potter, A Court of Thorns and Roses, and the Gemma Doyle trilogy. She is also obsessed with pugs.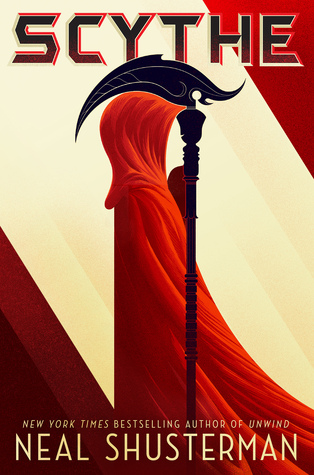 A world with no hunger, no disease, no war, no misery: humanity has conquered all those things, and has even conquered death. Now Scythes are the only ones who can end life—and they are commanded to do so, in order to keep the size of the population under control.
Citra and Rowan are chosen to apprentice to a scythe—a role that neither wants. These teens must master the "art" of taking life, knowing that the consequence of failure could mean losing their own.
Scythe is the first novel of a thrilling new series by National Book Award–winning author Neal Shusterman in which Citra and Rowan learn that a perfect world comes only with a heavy price.
I needed a good story to help break through my post-ACOWAR book hangover, and I certainly found it in Scythe. I have meandered between books, not really committing to any one in particular (and finishing all at a slow pace since none could keep my attention for long)… until I stumbled upon this book.
Shusterman is a name that I tend to hear in passing in the book clubs that I frequent, but I had never read his work before. A friend picked up Scythe and insisted that it was right up my alley – and I can't thank her enough. It is a fast paced read which picks up to a break-neck speed about halfway through. This is definitely a book that I lost sleep over this week.
Humanity has reached a point where death is no longer a guarantee. Instead of continuing to age, individuals are able to turn back their genes in order to relive their younger years – often resetting to their early twenties. Sickness and pain are things of the past, as "nanites" are injected into the bloodstream of all people in order to keep their bodies healthy and healed. "Splatting," the process of killing yourself in creative ways, has become a popular past time – splatters are revived and able to continue their lives within a few days. This presents a problem, of course, as people continue to reproduce and the earth is more and more populated.
In order to cull the population, Scythes are trained and ordained to glean the lives of individuals. Each Scythe, however, is given the freedom to glean as they see fit. The book follows Citra and Rowan as they serve and apprenticeship under the great Scythe Faraday.
Citra and Rowan are fantastic as main characters, and I found myself holding my breath as their journey into Scythedom intensified. While a romantic interest between the two is hinted at, it is not a main part of the story itself. This would normally be a turn off for me – I am definitely a fan of romance – but its near-absence never phased me. I feel that anything more than what is present would have felt wrong for the characters, which are focused instead on perfecting the art of death.
I am notorious for predicting story arcs and twists, but never saw the majority of this book coming. Because of this, I am hesitant to say more about the book, lest I spoil something for future readers. The experience was one that I will not soon forget.
4.5 Bards