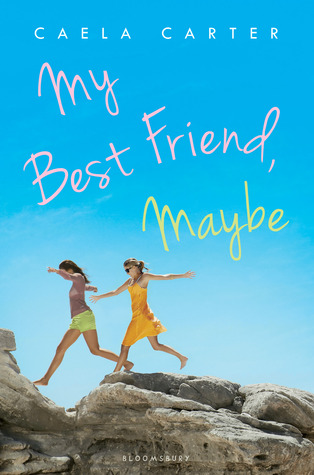 Colette has been bored and lonely ever since her best friend, Sadie, dumped her the summer before they stared high school. She tries to be perfect for everyone left in her life: her parents, her younger brothers, her church youth group, even her boyfriend, Mark. But Colette is restless. And she misses Sadie.

When Sadie tells Colette that she needs her old friend to join her on a family vacation to the Greek Islands, one that leaves in only a few days, Colette is shocked to hear their old magic word: need. And she finds herself agreeing.

Colette tries to relax and enjoy her Grecian surroundings but it's not easy to go on vacation with the person who hurt you most in the world. When the reason for the trip finally surfaces, Colette finds out this is not only a fun vacation. Sadie has kept an enormous secret from Colette for years…forever. It's a summer full of surprises, but that might be what Colette needs.
Release Date: June 3, 2014
I really wasn't sure when I read the synopsis of this novel if I would be able to get through this novel without remembering how hard it is to lose your best friend, whether it be a childhood best friend, a high school best friend, or even a college best friend.  Well, that all happens to people, and its one of the main reasons I did decide to read it.  Because I've been through it, and that means that a large percentage of Carter's readers would have or will go through that.
The story line is somewhat slow to begin, but the narrator, Colette, slowly introduces us to her current narrative and her past friendship with Sadie.  (On a side note, I fully believe that Carter drew inspiration from the lyrics of the Beatles' song Sexy Sadie when deciding to name that character.)  While the mystery doesn't seem as vital or important as let's say, a murder or any life threatening issue, but it is addicting and realistic as a motivator in the story.
Not only does Carter's novel explore the crippling conformity that some forms of religion can cause young people after having been raised in a strict household, but it explores the importance of self-discovery and a teenager's growing ability to make decisions, moral or not, about what they believe and who they choose to keep in their lives.
It isn't preachy or trying to change a readers opinion on any type of religion or lifestyle, but it is the perfect book that can help show readers that their decisions are their own and not any outside influences.
4.5 Bards for this amazing story