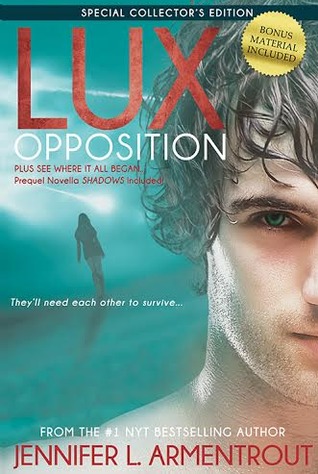 Katy knows the world changed the night the Luxen came.
She can't believe Daemon welcomed his race or stood by as his kind threatened to obliterate every last human and hybrid on Earth. But the lines between good and bad have blurred, and love has become an emotion that could destroy her—could destroy them all.
Daemon will do anything to save those he loves, even if it means betrayal.
They must team with an unlikely enemy if there is any chance of surviving the invasion. But when it quickly becomes impossible to tell friend from foe, and the world is crumbling around them, they may lose everything— even what they cherish most—to ensure the survival of their friends…and mankind.
War has come to Earth. And no matter the outcome, the future will never be the same for those left standing.
Well its the bitter sweet moment with this book, its the last one.  I am both happy to have read this book and the story has found a ending but sad it is over.  I have enjoyed reading the Lux series so much!  They have been a pleasure to read.
As for this book the violence, and sex was defiantly more prevalent than the previous books.  Not that I minded I just mention that as a warning to the younger readers out there.  This book.  Wow,  It packs a punch.  There are a lot of twists and turns, a lot of reoccurring characters, some you never thought you would see again.  Friends became foes, and foes became friends.  It was a jumbled mess that comes together for a perfect book.
I don't want to write too much about this book.  If you are reading the others in the series there is a good chance you already love the books, and know the character.  So I will just say this, if you have not started reading this series, start.  None of the books disappoint.  They are all fantastic.
5 Bards