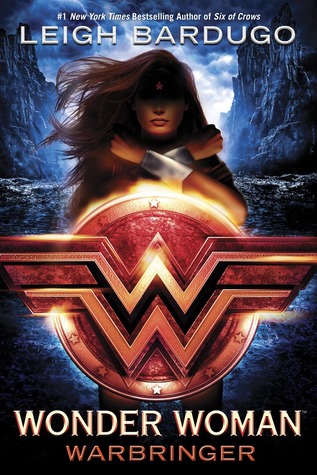 Daughter of immortals.
Princess Diana longs to prove herself to her legendary warrior sisters. But when the opportunity finally comes, she throws away her chance at glory and breaks Amazon law—risking exile—to save a mortal. Diana will soon learn that she has rescued no ordinary girl, and that with this single brave act, she may have doomed the world.
Daughter of death.
Alia Keralis just wanted to escape her overprotective brother with a semester at sea. She doesn't know she is being hunted by people who think her very existence could spark a world war. When a bomb detonates aboard her ship, Alia is rescued by a mysterious girl of extraordinary strength and forced to confront a horrible truth: Alia is a Warbringer—a direct descendant of the infamous 
Helen of Troy, fated to bring about an age of bloodshed and misery.
Together.
Two girls will face an army of enemies—mortal and divine—determined to either destroy or possess the Warbringer. Tested beyond the bounds of their abilities, Diana and Alia must find a way to unleash hidden strengths and forge an unlikely alliance. Because if they have any hope of saving both their worlds, they will have to stand side by side against the tide of war.
First thing you should know about me is that I tend to be a Marvel Comic purist. Why? Well, my dad was the one who used to buy me comics and he was a Marvel fan over DC, so that's basically the gist.  However, once I started receiving an allowance, I would pick up the Wonder Woman comics on occasion.  Still wasn't one of my must-read-every-month comics, but I loved Diana's story and her adventures.
All this in mind, why would I want to read this book? Two reasons: 1. the movie starring Gal Gadot was absolutely fantastic and it reignited my interest in Wonder Woman's story. 2. Leigh Bardugo was writing the book (she's so great).
Much like the movie, the action in Bardugo's Wonder Woman picks up immediately, and much to my dismay, also like the movie, we spend very little time with Hippolyta and the Amazons on Themyscira. What can I say, I just want to spend a lot of time with all of those kick ass women. Also, Bardugo explores the Amazonian origins in respect to how those living on Themyscira arrived on the island, and this is something that I suppose I never learned about during my sporadic reading or just didn't remember, so I really enjoyed that.
Bardugo's characterization of Diana is pretty spot on: feeling unworthy of her life on Themyscira, feeling unable to live up to Hippolyta's expectations, wanting more than "this provincial life" (*pats self on back for Beauty & the Beast reference*), and being generally curious of life off of the island. I felt like she hit all the right notes for me to go ahead and relate to Diana the minute I started to read.
I loved the mythology in this novel about the descendants of Helen of Troy. It was glorious. The idea of the woman who launched a thousand ships being the precursor to a line of warbringers is so great. I tried to look up to see if this was ever an idea in the comics, but from what I can find (and feel free to correct me) this is a wholly original idea by Bardugo. SO many props to her for this.
There are some serious twists and turns in this book, ones that I definitely weren't expecting, and I read this book in one sitting on the beach. I didn't go in the water or play games with my family because I was so engrossed in Diana and Alia's story. Also, for making the story completely focused on the two main female characters and backseating the males…ALSO MORE PROPS.
Thank you, Leigh Bardugo, for keeping me on my toes and making me fall in love with Wonder Woman all over again.
4.5 Bards