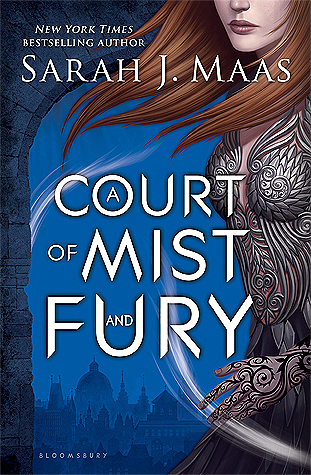 Feyre survived Amarantha's clutches to return to the Spring Court—but at a steep cost. Though she now has the powers of the High Fae, her heart remains human, and it can't forget the terrible deeds she performed to save Tamlin's people.
Nor has Feyre forgotten her bargain with Rhysand, High Lord of the feared Night Court. As Feyre navigates its dark web of politics, passion, and dazzling power, a greater evil looms—and she might be key to stopping it. But only if she can harness her harrowing gifts, heal her fractured soul, and decide how she wishes to shape her future—and the future of a world cleaved in two.
Holy nail biting absolutely jaw-dropping awesomeness.
As I put in one of my tumblr posts about ACOMAF, this whole novel can basically be summed up in this gif:
Basically.
The entire novel is pretty much Feyre finally coming into her own as a high fae and discovering her own worth is within herself and that she is not just the woman who saved the entire fae race for the sake of first love.
Speaking of said first love, the best part of me reading this and remembering that the first novel was supposed to be a kind of Beauty & the Beast type of story, was realizing that Tamlin is actually the Gaston of the story and Rhysand is the Beast. Reasoning? Gaston consistently referred to Belle as serving as his loving, doting, "little" wife, who would be responsible for his household while he is out hunting and galavanting.  Belle, and Feyre, want more than this "provincial" life.  The only saving grace for Tamlin in opposed to Gaston is that he seems to genuinely love Feyre, whereas Gaston just wanted Belle because she was the prettiest lady in the land.
As for Rhysand being the misunderstood man who served his time as a beast underneath the mountain and thought he would never see light (literally and figuratively) or love again, gives Feyre/Belle her own space in his home to heal herself and find home.  He even has a merry band of amazing friends a la Lumiere, Cogsworth, Mrs. Potts, etc that Feyre befriends and grows to love.  Speaking of his friends, Mor is my favorite of the new characters. Her quote, "There are good days and hard days for me – Even now. Don't let the hard days win," is one of my favorites from the novel. MOR YOU ARE A BEAUTIFUL LAND MERMAID AND NO MAN SHALL TAME YOU OR CLAIM YOU, AS YOU HAVE CLAIMED YOURSELF.
There's such an interesting juxtaposition between the Spring Court and the Night Court.  The Spring Court relegates Feyre, and consequently most women, to her miniscule role within their court, just a figurehead of the triumph Under the Mountain, rather than someone with actual opinions and powers.  However, the Night Court heralds two women as the second and third in command, providing them with the ability to govern themselves and have opinions in the matters of the court.  Not only does this environment allow Feyre to blossom and grow into her new abilities and life as an immortal, it literally restores her from the waif she was becoming while in Tamlin's household.
Seriously though, Rhysand, Mor, Cassian, Azriel, and Amren are squad goals.
I'm just going to put this here: Chapters 54 & 55 are jaw-dropping. Love it. I refuse to spoil these for you, just read the book and get to this part!
The end was absolutely awe inspiring and the little knowledge at the end that the conflict between these two courts and the King of Hybern is nowhere near completed is making me so anxious for the next novel that I'm tempted to steal a timelord, hop in the Tardis and go get the next novel now.
If you haven't read the first novel, A Court of Thorns and Roses, you can check out my review by clicking on the title. (Yes you will realize that I was on Tamlin's side at first. Big mistake on my part. Or was it just clever writing and character construction?) Or if you found yourself underwhelmed by the first installment, I highly encourage you to pick up a copy of A Court of Mist and Fury, you will not be disappointed by the "wow women are powerful," vibe and the smutty goodness.
I could keep gushing, but I'll just end it with this:
5 Bards.