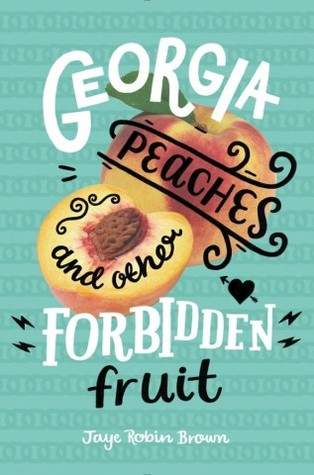 Joanna Gordon has been out and proud for years, but when her popular radio evangelist father remarries and decides to move all three of them from Atlanta to the more conservative Rome, Georgia, he asks Jo to do the impossible: to lie low for the rest of her senior year. And Jo reluctantly agrees.
Although it is (mostly) much easier for Jo to fit in as a straight girl, things get complicated when she meets Mary Carlson, the oh-so-tempting sister of her new friend at school. But Jo couldn't possibly think of breaking her promise to her dad. Even if she's starting to fall for the girl. Even if there's a chance Mary Carlson might be interested in her, too. Right?
I'm not going to lie to you, the beginning of this novel put me off almost immediately.  As a born and bred southerner, I too, grew up in the church, but I grew up in a denomination that is much more accepting and less judgmental than that of the Southern Baptist sect that is depicted in this novel.  Yes, I have been to a few Southern Baptist churches, and I'm not condemning them for their style of worship, because some of them were wonderful, but I do take issue with the church I remember specifically (and subsequently the church in Brown's novel) preaching fire and brimstone with prejudice against those different than them.  But, unfortunately, this is a real reality in some churches, and not just in the South. Initially, this, and the ridiculous request of Jo's father to "re-closet" herself for a year really just ticked me off.
Seriously, I hated her father for doing that to her.  But all of these things really culminated in me wanting to continue reading Jo's story to see if these issues are resolved, and they were.  I can't fully understand how hard it is to come out as LGBT in the south, since I am a straight, cis woman, but I have a number of close LGBTQ friends and I have witnessed how hard it can be for them.  Disclaimer: I also live in Charlotte, North Carolina, a giant blue dot in a red state, so I can't totally imagine Jo's situation in a backwoods Georgia small town.  Brown did a good job of keeping me interested and involved despite almost alienating me with Jo's father's request.
The overall message of this book is a good one: do not hide who you are for anyone or anything.  
Sure, the stakes are raised when Jo meets and falls for the picture perfect Christian girl, Mary Carlson, only to find out that Mary also has feelings for her.  A roller coaster happens with Mary desperate to come out and have the small town recognize her as a Lesbian and in a relationship with Jo, but of course that pesky promise she made to her dad kind of hinders that. Serious praise-hands emojis for Mary Carlson, who was the biggest star of this novel for me. I'd pay Jaye Robin Brown for more stories about Mary Carlson and Jo's adventures after they get out of Rome, Georgia.
More shenanigans and heartbreak ensues, and Jo eventually creates a LGBTQ friendly youth radio program through her father's ministry, and it made me so happy to have the warmth and love of that ministry involved as a juxtaposition to the bigoted church at the beginning of the narrative. So I think that it was important that Brown started out with the alienating church experience towards the beginning.
I loved the dynamic of the friend group that Jo finds in Rome, and how much they grow to accept her (save for one character and good riddance).
I grew to really enjoy this whole tumultuous story and the way that Brown was able to manipulate my emotions from the polarizing start to the accepting and wonderful ending.
Overall this was a really well written novel, the characterizations and the plot was well executed. Plus, if a novel can make me feel strong emotions, regardless, I will recommend it everyone.
A solid 4 Bards!