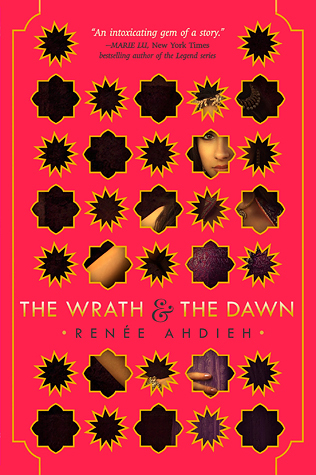 A sumptuous and epically told love story inspired by A Thousand and One Nights
Every dawn brings horror to a different family in a land ruled by a killer. Khalid, the eighteen-year-old Caliph of Khorasan, takes a new bride each night only to have her executed at sunrise. So it is a suspicious surprise when sixteen-year-old Shahrzad volunteers to marry Khalid. But she does so with a clever plan to stay alive and exact revenge on the Caliph for the murder of her best friend and countless other girls. Shazi's wit and will, indeed, get her through to the dawn that no others have seen, but with a catch . . . she's falling in love with the very boy who killed her dearest friend.
She discovers that the murderous boy-king is not all that he seems and neither are the deaths of so many girls. Shazi is determined to uncover the reason for the murders and to break the cycle once and for all.
For the love of young adult fairy tale re-tellings, this novel was everything I could have wanted it to be. Fast paced, dripping with what I like to call "quote-ables," AND a unlikely love story between two very different people, The Wrath and the Dawn is impeccable.
Ahdieh wastes no time setting up the narrative and immediately places the reader in the palace with Shahrzad the first night (of 1001, presumably).  I felt an immediate connection to this stubborn strong-willed, clever, beautiful girl. Shahrzad's (a.k.a. Shazi) goal is to kill the handsome Caliph in revenge for the murder of her best friend.  I don't know about you, but a 17-year-old that goes into a situation like this knowing the likely outcome and does it anyway has earned my respect.  Was it the best decision? Definitely not. But it wouldn't be a good narrative if there weren't a few bad decisions peppered in.  The first night passes and Shazi is somehow complacent and determined to continue with her plan.
The narrative does jump around in third person omniscient between Shazi, her father, her ex-boyfriend, and Khalid, but instead of this causing confusion as in some other novels, I really feel that it just strengthened the narrative arc by providing an entire world view of the story rather than just a focused glimpse into one part of the whole.  Speaking of strengthening the narrative, this entire novel made me hungry for food and clothes more than any in the past.  Ahdieh manages to put in so many lush details without it bogging down the story and she painted a vivid picture of what life could have been like in this world.   I also *may* have stalked the internet to find a representation of what some of the clothing looked like in my mind, but only found one that was close.
Let's really get down to business now…the love story.  The whole trope of good girl meets bad boy is kind of turned on its head in The Wrath and the Dawn, because while the kingdom believes Khalid to be a vicious killer with no remorse, Shazi really starts to get to know him during her stay at the palace.  Not only does Khalid prove to be secretive and a bit manipulative, but he is also gentle and desires love.  What I really love about the relationship and respect that builds between Shazi and Khalid is the fact that they drive each other absolutely nuts. It is funny, endearing, and heart-wrenching all at the same time.
Thank goodness there is a second installment to Shazi and Khalid's story because I just didn't get enough.
I will leave you with a quote and a song, oh, and the final Bard total too.
"You honestly expect me to breathe in a world without air?" From TW&TD
*queues up song*
5 Bards to Renee Ahdieh's The Wrath and the Dawn.
Be sure to come back Monday, May 25 for my interview with Renee!