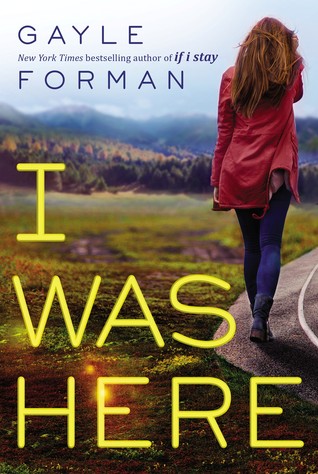 Cody and Meg were inseparable.
Two peas in a pod.
Until . . . they weren't anymore.
 
When her best friend Meg drinks a bottle of industrial-strength cleaner alone in a motel room, Cody is understandably shocked and devastated. She and Meg shared everything—so how was there no warning? But when Cody travels to Meg's college town to pack up the belongings left behind, she discovers that there's a lot that Meg never told her. About her old roommates, the sort of people Cody never would have met in her dead-end small town in Washington. About Ben McAllister, the boy with a guitar and a sneer, who broke Meg's heart. And about an encrypted computer file that Cody can't open—until she does, and suddenly everything Cody thought she knew about her best friend's death gets thrown into question.
I think that depression and suicide is something that has affected everyone, if not directly then peripherally.  I've had ex-boyfriends and friends that suffered from depression and suicidal ideations, and most everyone knows someone who has been affected in one way or another.
I Was Here opens the reader to a lot of emotions that come along with dealing with suicide.  Forman depicts survivor's guilt, the standard emotions that come along with loss, and showcases an aspect of the mental health community that everyone needs to be aware of.
Cody didn't handle Meg leaving and changing her life as well as she could have, yes, but growing pains happen in friendships.  However, much of the novel is about Cody and how she discovers Meg's secret life with depression (I am an advocate of being 100% honest and upfront with your friends about any struggle you might be having with mental illness) and her descent into the pro-suicide internet groups.  Cody struggles with discovering who she is without her best friend, but ends up finding a lot of new ones along the way and ends up exposing her town and the police to the website that encouraged Meg's
suicidal ideations.
I suppose for me it wasn't a surprise to hear about the online community for those that have suicidal ideations, because as someone who suffered from an eating disorder for almost 15 years, I am well versed in pro-ana and pro-mia sites that serve as motivation for those suffering.  What was very interesting to me was that Forman drew this story from real life inspiration, and that she was so moved by one young woman's story that she expanded upon it and created a novel that can help educate as well as it can entertain readers.
This isn't an easy story to read.  It is hard to read about someone who ended their own life, and I understand that this can be triggering to some readers.  But this is an excellent story and a good platform for readers to learn.
If you or anyone you know suffers from depression or suicidal ideation, please reach out and find help.
4.5 Bards for I Was Here