Welcome to the Midsummer Reads day on the 10 Things I Can See From Here Blog Tour!
I had the pleasure of interviewing the lovely Carrie Mac about her new book and about some of the content!
You can keep an eye our for review of 10 Things I Can See From Here, coming soon!
Interview Key: Italics= Midsummer, Bold = Carrie Mac
Carrie, as someone who struggles with anxiety, it is so great to read a book that depicts the spiraling thoughts that come along with it.  Did you do a lot of research to show this accurately?
Anxiety is a very unwelcome houseguest in my own imagination.
It's always there, and even when I kindly—or very unkindly—suggest that it's time to go, it hangs around. Sometimes when I've tried to get rid of it, it hides and I think it's finally gone, but then it burns a piece of toast in the kitchen and starts a small fire and before you know it there are sirens and then the fire trucks are outside and the house has burnt down. Or no, wait, it hasn't. Just the smoke alarm went off.
That little shit Anxiety never left. It just hid in a closet until I was finally calming down. Oh, I know Anxiety well. I don't like it, but we are close.
Same for a couple other dear members of my family, so it was all too easy to write. And all too easy to give to Maeve.
Sorry Maeve. Love you, hon.
2. What was your thought process of not having Maeve attend therapy while staying with her family in Canada?
There are a couple of reasons.
As much as Maeve's dad and stepmom are on board with whatever Deena wants to do to support Maeve, they have their own ideas and beliefs about mental health and truth be told, they're not that into formal supports, if at all avoidable. Maeve's dad doesn't give much thought to any particular 'approach' to Maeve's mental health at all, other than to love her for who she is and support in any given moment to calm down or take it easy or change the subject. Claire is big into anything supporting Maeve's mental health, but only if it rings as true and helpful. Claire—having experience with it herself — is not that into talk therapy, so that's not something she wouldn't leap at. But hikes and sleep and diet and homeopathy? Knitting? You bet!
Now that things have settled down, Maeve will sort herself out and find a therapist. Unless she's going to use the six months to try other things.
Not knitting though.
Or marimba lessons.
3. I think I've only read one or two books that were explicit about being based in Canada! It was so nice to read about Vancouver. Since you live in Canada was this a natural choice, or was it a secret plot to make us all want to visit? (But seriously, I want to go to Vancouver now.) 
            This story lives in East Van. I'm sitting in my usual coffee shop writing now, looking out on the neighborhood where Maeve's parents live. Most of my novels don't need to be set anywhere in particular, but Maeve's story is an East Vancouver story. This neighborhood is special, and it is exactly what I needed for Maeve. Her community needed to be healthy and vibrant and supportive and delightfully weird because she was already dealing with her anxiety and a very real mess at home, and then the added flurry that comes with falling in love. This neighborhood is an anchor in the book.
Absolutely come visit! This is a charmed city in so many ways, even if our dark underbelly can be exceptionally dark at times.
4. On your Twitter you mentioned that the bus beheading was a real story that inspired one of Maeve's spirals, are the others she references real as well? 
Most of them are, yes. To name a few, the bus beheading, the women taken from the Downtown Eastside and murdered at a pig farm, the young women shot by a gunman while at college, the man who drove off the ferry dock, bedbug infestations, the suicide pact, cholera, the woman driving the 'school bus' van, and then others are more general, like someone jumping in front of a train, earthquakes (very real threat here), or being kidnapped from a city park. Real or not, though, I bent each one to make it fit. Like Emily Dickinson wrote, "Tell all the truth, but tell it slant."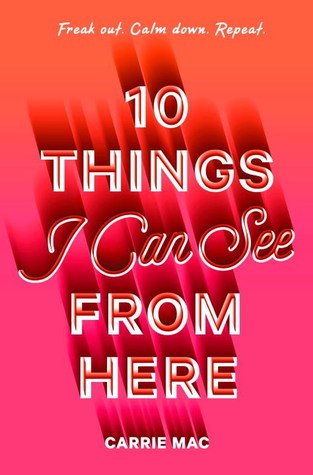 5. Speaking of, how much of your research for this novel was on disastrous statistics? 
            I only dipped into actual statistics when absolutely necessary because they freak me out. So much that I'm getting anxious just answering this question. Maeve needs facts. They both fuel her anxiety and set limits to it, so I researched for her. If it were up to me, I'd never ever look that shit up.
Now, what are ten things I can see from here …?
6. What is the most exciting thing about having 10 Things I Can See From Here being published with such a large advertising campaign? I swear most bloggers I talk to have either read your book or have had it pre-ordered for a long time! 
            I love actually seeing it everywhere. The cover just pops right out of websites and news releases and tweets sings "Hi! Look at me! I am so beautiful and you should read me and we will be such good friends!" And when I see the book pop up I think, "Oh! There's my super famous friend!" and then I remember that 10 Things is my baby. It's really exciting. I can't wait for everyone to read it. And I cannot wait for people to send selfies of them reading it all over the place, with that gorgeous cover doing a song and dance on a dreary subway train or a dark bedroom on a rainy day.
7. What advice do you have to young writers who struggle to sit down and finish a story?
            Write all the way to the end. Don't look back. Don't re-read, don't revise, don't do spellcheck, just keep going all the way to the end. That's when you can start to be precious about it. Wait until you have a first draft, and then you can worry, and revise, and change things around.
First drafts suck.
They should.
Write the damn thing, and then you get to move on to the second draft, which is so much better.
Don't believe in writers' block. It's a myth. It doesn't exist. Just because you can't write the thing you want to write doesn't mean you can't work on something else.
Write.
Just write.
Imagine if you wrote only one single page a day, you'd have a 365-page novel at the end of the year.
Yay, you!
8. If you had to say one thing to a young reader after they read 10 Things I Can See From Here, what would you say? 
"What did you think of it?"
And then we'd get to talking because of their answer. Maybe they want to talk about Maeve, and how they identified with her anxiety, or maybe they loved how being queer was no big deal because it's a huge taboo in their community. Or maybe they want to critique me on the book, because they're a writer and would've done it differently.
I don't have any one thing to say, but I would love to hear what readers have to say.
Thanks so much to Carrie Mac for stopping by A Midsummer Night's Read!  You can pick up 10 Things I Can See From Here now!