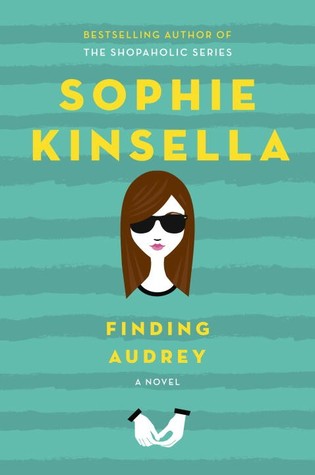 Audrey can't leave the house. she can't even take off her dark glasses inside the house.
Then her brother's friend Linus stumbles into her life. With his friendly, orange-slice smile and his funny notes, he starts to entice Audrey out again – well, Starbucks is a start.And with Linus at her side, Audrey feels like she can do the things she'd thought were too scary. Suddenly, finding her way back to the real world seems achievable.
Be prepared to laugh, dream and hope with Audrey as she learns that even when you feel like you have lost yourself, love can still find you . . .
***GIVEAWAY BELOW***
As a reader who devoured Sophie Kinsella's Shopaholic series, I jumped at the opportunity to participate in the blog tour for her first foray into young adult literature.
Kinsella has expertly tapped into the growing contemporary corner of young adult that focuses on teens dealing with mental illness.  There are a number of narratives out that deal with depression and suicide, but Kinsella takes on the equally complex social and generalized anxiety disorders.
The characterization of Audrey's family is really a shining point in this story.  I absolutely adore how Kinsella has explored how different parents and children are in relation to technology.  Granted, a lot of this is exacerbated by Audrey's mother's obsession with the Daily Mail.  As an American a lot of my knowledge of the Daily Mail comes from my roommate, who is British, and John Cleese.  Both of them hate the Daily Mail and consider it trash news, which is exactly how it is portrayed in this story so it really just firmed up my belief that we shouldn't read the Daily Mail.  It's kind of sad that Audrey's mother is so wrapped up in believing what some article tells her that it dictates what she does in relation to her children, but it isn't wholly unbelievable or unrealistic.  It makes her a bit ridiculous and endearing at the same time which is why it is brilliant.
Audrey is such a wonderfully complex character.  Her voice is distinct and witty, but still reserved at the same time.  In fact, her voice is one of the things that sets her apart and exemplifies her anxiety almost as well as the situations she describes.  I also enjoyed the breaking of the fourth wall in certain parts of the story.  Frank was what I would consider a typical 13 year old boy to be.  He is obsessed with playing a World of Warcraft type of game and aspires to do that as an official job.  I mean, I think that is a dream job for a lot of gamer kids.  He is snarky, stubborn, and just a bit insufferable.  Frank was an excellent character. The other two family members, Audrey's father and youngest brother Felix, are the least developed, but it definitely didn't take away from the narrative.  I actually quite enjoyed the father's befuddled and somewhat absent-minded attitude.
There is an adorable first love situation going on in Finding Audrey and it is just everything I wish I could have had at 14.  It's realistic and awkward and really well done.  The synopsis kind of makes it seem like Linus is the whole reason for Audrey being able to start down the path to recovery, but I think that Audrey just needed that little push.  Linus was just a side effect of the push, a good side effect.  Kinsella did such a good job of explaining how recovery and learning to live with mental illness really is like a jagged graph.  There will be highs, lows, stable days, completely messed up days, and everything in between.
Overall I think that Kinsella kicked off the young adult aspect of her career very strongly, and I hope she will continue to contribute to the genre.
4.5 Bards
***US AND CANADA ONLY