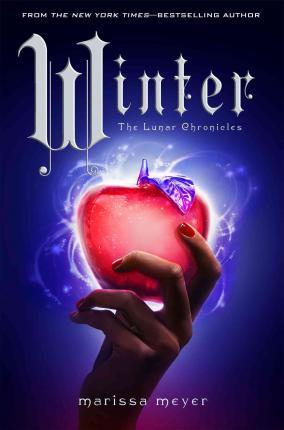 Princess Winter is admired by the Lunar people for her grace and kindness, and despite the scars that mar her face, her beauty is said to be even more breathtaking than that of her stepmother, Queen Levana.
Winter despises her stepmother, and knows Levana won't approve of her feelings for her childhood friend—the handsome palace guard, Jacin. But Winter isn't as weak as Levana believes her to be and she's been undermining her stepmother's wishes for years. Together with the cyborg mechanic, Cinder, and her allies, Winter might even have the power to launch a revolution and win a war that's been raging for far too long.
Can Cinder, Scarlet, Cress, and Winter defeat Levana and find their happily ever afters?
Be sure to check out my review of Cinder, Scarlet, Cress, and Fairest.
After reading this novel, can I just say that I am super thankful that Bloomsbury announced the collection of Lunar Chronicles short stories?  Especially since one will expand upon the epilogue from Winter.  But, I am getting ahead of myself.  I need to go back to the beginning and review the entire book.
We open Winter not long after Cress finished off, which Scarlet captured and kept as a pet for Princess Winter on Luna, Prince Kai is aboard the Rampion as a "prisoner," Thorne is still blind, and everyone is trying to scramble to figure out how to move forward.
Cinder and Kai shippers will be very happy with the opening chapters as they are filled with lighthearted flirting and a fair amount of kissing before they are separated in order to try and defeat Queen Levana and take Luna for the true heir.  There will be some heartrending places in the novel for these two, but don't worry, true love does prevail regardless of the outcome.
Cress remains hopelessly in love with Thorne, who is still his generally douchey self.  I really wish she would have the guts to tell him how she feels without it taking away from the climactic takeover scene in the novel, because it really just bogged down the narrative at that point.
Overall, I will say that this novel felt like it had a lot more exposition than should have been needed for a final installment.  However, I can kind of understand why when the readers are finally getting Princess Winter's point of view and with that, an inside view of the Lunar kingdom.  This is especially important for readers who haven't read Fairest, which serves as the prequel to the Lunar Chronicles.
There are a few twists and turns along the way, and while the length could have been shortened, I think that Winter was an extremely solid conclusion to the Lunar Chronicles and could have done without the additional short coming in February 2016.  Selfishly, of course, I just want to live in that world a bit longer (and see where our favorite heroes and heroines end up).
I'm giving Winter 4 Bards, and for die hard fans this is the ending we've all been waiting for.  Be sure to pick up a copy.