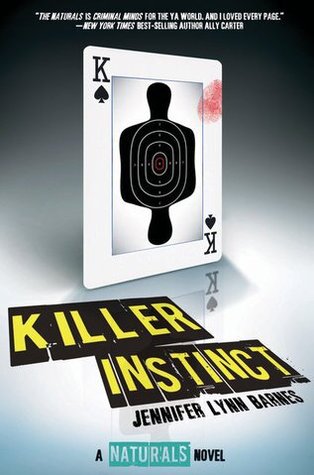 Seventeen-year-old Cassie Hobbes has a gift for profiling people. Her talent has landed her a spot in an elite FBI program for teens with innate crime-solving abilities, and into some harrowing situations. After barely escaping a confrontation with an unbalanced killer obsessed with her mother's murder, Cassie hopes she and the rest of the team can stick to solving cold cases from a distance.
But when victims of a brutal new serial killer start turning up, the Naturals are pulled into an active case that strikes too close to home: the killer is a perfect copycat of Dean's incarcerated father—a man he'd do anything to forget. Forced deeper into a murderer's psyche than ever before, will the Naturals be able to outsmart the enigmatic killer's brutal mind games before this copycat twists them into his web for good?
This book was an unexpected pick up at Book Expo America this year, and I did major fangirl flailing when I got my hands on a copy of it, because The Naturals was one of my favorite reads from early 2014 (click on the title to see my review!).
It was absolutely wonderful to get back into the lives of the kids in the special FBI program, and it was a little bit harrowing as well (I wouldn't have it any other way).  Cassie is still reeling from the betrayal of their previous FBI handler, when a new character is introduced and is going to be taking over the training and responsibility of these talented teens.  Now, when this happens, it irritated not only the characters, but also me as a reader.  Why? Well, she basically limits any of the cool story aspects for the characters to do in the first few chapters before the narrative really picks up.  While I do appreciate that she is determined that the kids need to finish high school, is there really any way that these characters WOULDN'T immediately get a job at the FBI once they are 18?  I mean they already have clearance, work experience, natural talent…. but anyway.
Once the story really gets going the novel is hard to put down.  I wouldn't go so far as to say that it was better than the first installment, but it is definitely close.  There is a large amount of suspense and misdirection that happens when the teens get too caught up in the case, and there is definitely some scary moments where some lives are held in the balance. I can't imagine how painful this novel would have been had the narrator been Dean instead of Cassie, but again, he isn't a character who would really provide a lot of clarity in narration, as he tends to be a little hard to crack.
The love triangle, of course, makes an appearance–but I honestly don't know who I would want Cassie to choose between Dean and Mike.  They both have a lot of flaws and emotional baggage, not to mention Cassie's own issues with what happened to her in the first novel and how she was raised.  I think this is one of the reasons I love these characters and their story so much, because they are flawed and realistic.  Also: that twist! (I can't say anymore!)
4 Bards!