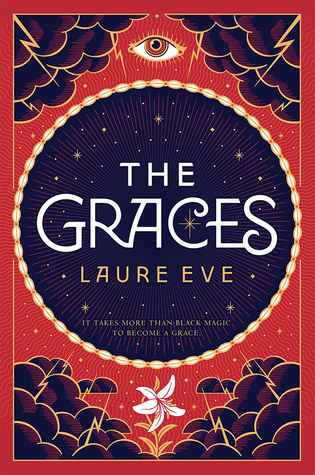 In The Graces, the first rule of witchcraft states that if you want something badly enough, you can get it . . . no matter who has to pay.
 
Everyone loves the Graces. Fenrin, Thalia, and Summer Grace are captivating, wealthy, and glamorous. They've managed to cast a spell over not just their high school but also their entire town—and they're rumored to have powerful connections all over the world. If you're not in love with one of them, you want to be them. Especially River: the loner, new girl at school. She's different from her peers, who both revere and fear the Grace family. She wants to be a Grace more than anything. And what the Graces don't know is that River's presence in town is no accident.
Release Date: September 6, 2016
This book was an easy read, and one I enjoyed reading while I was enjoying a glass of wine and while I was relaxing in the sun on Lake Norman.  But, there are some really…interesting aspects of the novel that put me off as I first opened it.
First, the summary on the back of my ARC copy is a bit different from the one above, and it focuses much more on River's obsession with being friends with the Graces and how much she literally wants to become one.  So that's a bit stalker-ish in an obsessive and not fun way, and the character comes off as desperately wishing for her friendship and relationship with these three kids that she came off a bit one dimensional and just so desperate for them to give
her life meaning.  I imagined her annoying Roger on F.R.I.E.N.D.S with her absolute need for them to give her purpose and direction.
So, never to go against the YA trope that the main character is going to be somewhat special and plucked from obscurity in her social caste, Eve's character, River, becomes exactly what she wanted to be: one of the Graces – or rather, someone the Graces grow to trust and bring under their wing.
Eve's writing really excels when River is simply observing the Graces and the interactions between the Grace siblings is one that makes me wish I was closer to my own sister, you know, minus all the witchcraft.  In fact, I think that the Grace siblings having more well-rounded character traits was instrumental in showing the progression of River as a character throughout the novel.  River adapts certain aspects of their personalities into her own, and there's a scene where the youngest Grace seemingly transforms River into almost a carbon copy of herself.
River is just such a troubling character for me, because you go into the novel wanting to root for her since she is portrayed as the protagonist.  However, by the last fourth of the novel I kept
thinking to myself that River should really just break out into the song from Crazy Ex-Girlfriend, "I'm the Villain in my own Story." Even with her deplorable actions, I found myself still waiting and wanting her redemption. *Shakes fist at Laure Eve* How dare you make me care for someone with so many shades of gray!
The novel could have stood to have a bit more world building in the aspect of witchcraft, and the different types of witches that exist…or even some kind of explanation for River, herself, since she clearly didn't fit into any of the definitions given to us.
Overall, I found this novel to be a fun and fast read and perfect for a lazy summer afternoon in the sun.
3.5 Bards, because I just really am torn on the main character and the need for a bit more world building, but it comes out soon and you should pre-order your copy now!  Then we can discuss.
SIDE NOTE:
Isn't the cover amazing?