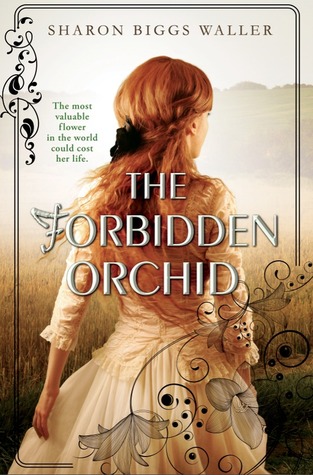 Staid, responsible Elodie Buchanan is the eldest of ten sisters living in a small English market town in 1861. The girls' father is a plant hunter, usually off adventuring through the jungles of China.
Then disaster strikes: Mr. Buchanan fails to collect an extremely rare and valuable orchid, meaning that he will be thrown into debtors' prison and the girls will be sent to the orphanage or the poorhouse. Elodie's father has one last chance to return to China, find the orchid, and save the family—and this time, thanks to an unforeseen twist of fate, Elodie is going with him. Elodie has never before left her village, but what starts as fear turns to wonder as she adapts to seafaring life aboard the tea clipper The Osprey, and later to the new sights, dangers, and romance of China.
But even if she can find the orchid, how can she find herself now that staid, responsible Elodie has seen how much the world has to offer?
Release Date: March 8, 2016 (TODAY!!!)
I was a huge fan of Waller's first young adult novel, A Mad, Wicked Folly, so when Penguin sent me an advanced copy of The Forbidden Orchid, I was pretty excited.
To be honest with you, I wasn't familiar at all with the concept of plant hunters during the Victorian Era, and here in America we learn very little about the Opium Wars.  In world history we just touch on them, and I'm pretty sure my teacher just said, "Then there was the Opium Wars. Moving on…"  I really appreciate this about Waller, because I made the same comment about A Mad, Wicked Folly.  She is really touching on subjects that American readers will benefit from learning through her historical fiction.
Some of the same themes run throughout The Forbidden Orchid as in A Mad, Wicked Folly, and there is a very similar formula.  Formula: Privileged upper middle class British teen girl + patriarchal society of England (interesting considering there was a powerful Queen on the throne during BOTH novels) + familial duties + said character's sense of adventure/individuality + character wanting more than the privileged life she already has.  I'm totally okay with this formula in Waller's novels, because it works.  The characters are so wonderfully developed with the flaws of those who come from privilege, and they are frequently made to check that privilege when dealing with other characters.
Similar themes that show up in both: Romance (obviously as it is a Young Adult novel), Political Climate, and Women's Rights.  However, much like in A Mad, Wicked Folly, the romance really takes a back seat to the primary focus of the novel.  Waller is excellent at constructing a meaningful romantic relationship without having the primary plot take a hit in favor of making a character swoon constantly in narration.
Elodie really evokes some Ingrid Michaelson songs to me, as I think Michaelson has an exotic voice/sound that would really appeal to this character.  So for me, I'm going to characterize Elodie with one song:  Are We There Yet. "They say that home is where the heart is/I guess I haven't found my home/And we keep driving round in circles/Afraid to call this place our own"  Even though Elodie has a home and lives comfortably with her family there is just something missing.  So Michaelson's pleading voice repeating Home, Home, Home just really feels like it could be Elodie questioning her purpose in life.
Splitting the novel into parts was a great way to avoid boring narrative where the time jumps were due to the long nature of travel from England to China.  I really only found the book lagging toward the beginning, but I think it suits the dull nature of Elodie's existence in Kent versus the quicker paced last half of the novel, as she is finally experiencing travel and plant hunting.
Overall I really enjoyed this novel and read most of it in one sitting.
4.5 Bards
Get your copy of The Forbidden Orchid today!