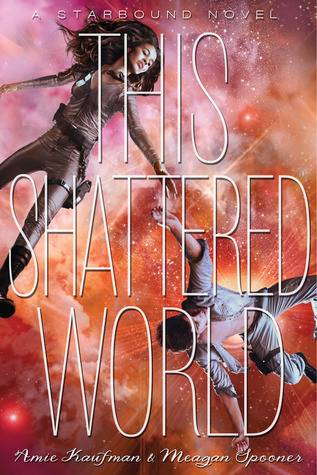 Jubilee Chase and Flynn Cormac should never have met.
Lee is captain of the forces sent to Avon to crush the terraformed planet's rebellious colonists, but she has her own reasons for hating the insurgents.
Rebellion is in Flynn's blood. Terraforming corporations make their fortune by recruiting colonists to make the inhospitable planets livable, with the promise of a better life for their children. But they never fulfilled their promise on Avon, and decades later, Flynn is leading the rebellion.
Desperate for any advantage in a bloody and unrelentingly war, Flynn does the only thing that makes sense when he and Lee cross paths: he returns to base with her as prisoner. But as his fellow rebels prepare to execute this tough-talking girl with nerves of steel, Flynn makes another choice that will change him forever. He and Lee escape the rebel base together, caught between two sides of a senseless war.
*kicks self*
Why yes, I am kicking my own ass for not reading this sooner.  Sure, I chastised myself fairly well in my review of These Broken Stars (which you can check out by clicking on the title), but I just
have to keep reminding myself that I made a huge mistake by putting these off (Gob Bluth agrees).
This Shattered World picks up roughly a year after These Broken Stars, to be more accurate I think it is around 8-9 months after based on a comment in the novel, and we are introduced to two new characters immediately.  Now, I knew going into this that Lilac and Tarver were not going to be involved in this narrative, which was a bit disappointing, but it didn't really deter me much considering I legitimately put down These Broken Stars and immediately walked to my bookshelf to pull This Shattered World.
Spooner and Kaufman waste no time putting the reader into the hostile environment on Avon and both of the narrators are introduced in the first chapter.  I found it to be interesting that the first novel started with the male perspective, Tarver, and this installment started will Jubilee's point of view.  Jubilee and Flynn share a large amount of the point of view switches, where in the first novel it seemed that Tarver's narrative voice really dominated the story.  I found that I was really wishing for more from Lilac after finishing This Shattered World, because I realized how strong the female perspective was and how much I wanted from her in retrospect.
Jubilee isn't necessarily the most likable character at first considering she prides herself on being emotionless, dreamless, and unable to be corrupted by Avon.  However, she is headstrong and determined and is supremely skilled, which makes her respectable before she is likable.  Flynn, on the other hand, was immediately relatable.  I saw Spooner at a book event once and she revealed that she and Kaufman would do the female and male point of views, respectively.  I love how different their narration was but how they came together as characters.
I like that the POV shifts still included the one page inserts from an outside source.  The first novel had interview questions between an unknown and Tarver, and this novel had the details of dreams.  I think that the stories tied together extremely well and I was very glad to see a few familiar faces toward the end of This Shattered World. 
4.5 Bards