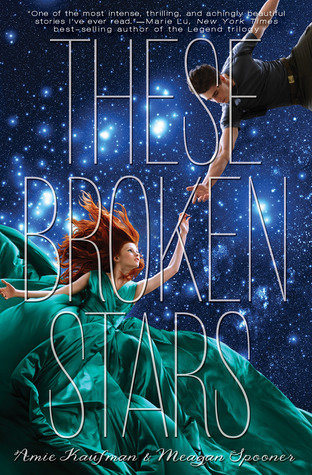 It's a night like any other on board the Icarus. Then, catastrophe strikes: the massive luxury spaceliner is yanked out of hyperspace and plummets into the nearest planet. Lilac LaRoux and Tarver Merendsen survive. And they seem to be alone.
Lilac is the daughter of the richest man in the universe. Tarver comes from nothing, a young war hero who learned long ago that girls like Lilac are more trouble than they're worth. But with only each other to rely on, Lilac and Tarver must work together, making a tortuous journey across the eerie, deserted terrain to seek help.
Then, against all odds, Lilac and Tarver find a strange blessing in the tragedy that has thrown them into each other's arms. Without the hope of a future together in their own world, they begin to wonder—would they be better off staying here forever?
Everything changes when they uncover the truth behind the chilling whispers that haunt their every step. Lilac and Tarver may find a way off this planet. But they won't be the same people who landed on it.
I swear that I need to have someone else come behind me and help me choose which books to read as soon as I get them and which ones to put aside until later.  I mistakenly left this novel (and it's sequel) sitting on my shelf too long.
These Broken Stars is a lot of things rolled into one: it is science fiction, it is romance, it is kind-of dystopian, and it is just a bit magical.  I've read some reviews of this novel that says that it was originally hyped as a big science fiction novel by the publisher.  I'm here to tell you that I don't remember it being hyped as that.  I remember that it was a romance set in space.  Sure, the romance is a HUGE aspect of the novel (and I loved it) but I don't understand why some reviewers were taken aback by that.  Anyway, I really like that there isn't a time period stated in the novel or really anything that dates the story.  This means that the narrative will be able to stand on it's own without being dragged down by cultural references or anything like that.  I absolutely adore novels that can not be dated.  It is obviously futuristic but we don't know if it is 5 years in the future or a 100,000 years in the future.
The story starts quickly and the action never stops.  I love Kaufman and Spooner's use of the Journey trope in this novel because it applies not only to the physical journey that Lilac and Tarver take, but also their emotional journeys as individuals and their journey in relation to one another.  I also really enjoyed the rotating narration in These Broken Stars.  I saw Meagan Spooner at a book event not long ago and she mentioned that Kaufman will typically write the male narration and that she will write the female narration.  It works so well!  Lilac and Tarver have such individual voices, but they slowly begin to come together toward the end of the novel, just as they do emotionally.
Lilac became such a strong character over the course of the novel.  She was strong in her own right at the beginning, but she really became so much more relatable and realistic as she struggled to survive without complaint in the strange terrain of the unknown planet.  It is obvious from the beginning that there will be a romantic relationship developing between Tarver and Lilac, but I think that Kaufman and Spooner provided excellent backstories that caused many obstacles to their romance–on top of them being unlikely partners in survival.  Where Lilac became much stronger as a result of her friendship with Tarver, I really liked how she softened him.  He was so closed off through a good part of the novel, but I think that his focus on keeping Lilac alive really showed his true colors.  Two amazing characters.
I loved the concept of the whispers, and I won't give away anything else about them. Their existence was very thought provoking.  I've said too much!S
I really enjoyed this novel and could not put it down. I've already started the second installment and I am so glad I finally picked these up.
If you haven't read these books I highly recommend it.
BUY THIS BOOK
Amazon| Flyleaf Books| Barnes & Noble
4.5 Bards