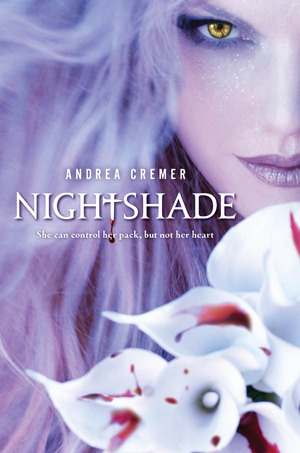 Calla Tor has always known her destiny: After graduating from the Mountain School, she'll be the mate of sexy alpha wolf Ren Laroche and fight with him, side by side, ruling their pack and guarding sacred sites for the Keepers. But when she violates her masters' laws by saving a beautiful human boy out for a hike, Calla begins to question her fate, her existence, and the very essence of the world she has known. By following her heart, she might lose everything- including her own life. Is forbidden love worth the ultimate sacrifice?
Nightshade brings you into a world of teenage wolf packs. It's an interesting take and diverges from the normal view of what a werewolf is and what they do. These teenage wolves are the top of the school, most popular and most feared, they have normal teenage issues, and yet they hunt in a pack, keep watch over sacred ground and mate to a partner that was chosen for them at birth.
Calla is a female alfa, fighting for a place in a patriarchal pack. Where even though she is the alfa of her group of pack mates, she must bend and heed to anything the males of any pack say and do. It's a little cringe worthy at times, as I am a strong willed woman and find it hard to read about strong will women being submissive in a not so pleasant way. There was nothing sexual about it, merely just suggestions to the "I am male, you do what I say no matter how much you don't like it" nature.
Trying to following the system of beings within this book was a little confusing as well. Who's who and what's what got to be a little much and I found myself skipping over the details of that and still following the story just fine. That being said, there was plenty of dialogue to keep me interested throughout the whole book. Descriptions were good, but not overly done, which is a huge bonus for me.
For being a young adult novel, it stayed true to the audience and had just enough action to let the reader continue reading without hesitation. I did think for book 1 in the series it was a little long, and could have been cut or shortened a bit. I'll be interested to see how the story picks up in book two!
I give this book 3 1/2 bards!