In 1959 Virginia, the lives of two girls on opposite sides of the battle for civil rights will be changed forever.

Sarah Dunbar is one of the first black students to attend the previously all-white Jefferson High School. An honors student at her old school, she is put into remedial classes, spit on and tormented daily.

Linda Hairston is the daughter of one of the town's most vocal opponents of school integration. She has been taught all her life that the races should be kept "separate but equal."

Forced to work together on a school project, Sarah and Linda must confront harsh truths about race, power and how they really feel about one another.
Release Date: September 30, 2014
When I heard about this book at Book Expo America this year, I couldn't have been more excited.  A young adult novel that deals directly with the idea of desegregation in the south, in addition to the outrageous mistreatment of anyone who was of a different race, sexuality, religion, etc is one I definitely needed to read.  A little background:  I was born and raised in North Carolina, just north of Charlotte, and my parents both remember how their schools were desegregated.  So while I've heard stories from them and through my history courses, there's nothing like reading a story that is based in the true facts and events that other people have written about and conveyed to those of us in present day.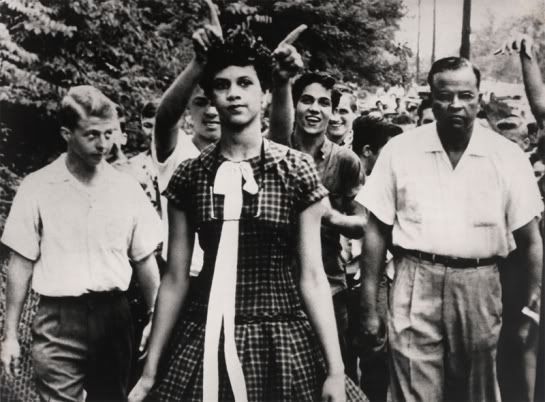 Fact: in Charlotte, North Carolina, there was a single African American woman, Dorothy Counts, that was integrated into Harding High in 1957.  Some of you might even recognize her picture:
She had rocks thrown at her, was spit on by her classmates, had trash thrown at her, and lost her first two white friends because they were taunted and bullied as well.  Robin Talley explores all of these things in her novel, Lies We Tell Ourselves.  
While Talley's novel introduces seven black characters going to the same school, they didn't have it any easier than Dorothy Counts just because there was more of them.  The story really delves into the deep racisim that existed blindly in the south for years, and how it affected both a black and white female character.
I think the important part is that these girls not only grow to like one another as people, despite the fact that the white girl was raised to believe that segregation is God's way of keeping the unfit separate, and eventually begin to have romantic feelings for one another.  Wow.  Talk about some intense narrative.  I won't go into more details, but just know that the change that both characters make throughout the story really shows off Talley's story telling ability and it showcases how the desegretation movement really changed history in the south.
5 Bards for Talley's daring and historically accurate novel.