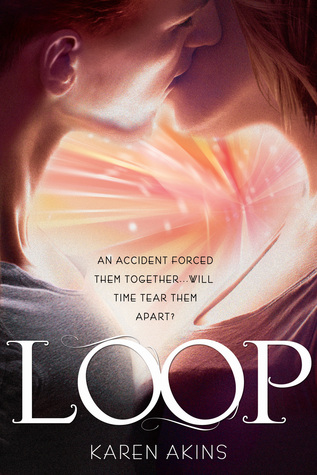 At a school where Quantum Paradox 101 is a required course and history field trips are literal, sixteen year-old time traveler Bree Bennis excels…at screwing up.
After Bree botches a solo midterm to the 21st century by accidentally taking a boy hostage (a teensy snafu), she stands to lose her scholarship. But when Bree sneaks back to talk the kid into keeping his yap shut, she doesn't go back far enough. The boy, Finn, now three years older and hot as a solar flare, is convinced he's in love with Bree, or rather, a future version of her that doesn't think he's a complete pain in the arse. To make matters worse, she inadvertently transports him back to the 23rd century with her.
Once home, Bree discovers that a recent rash of accidents at her school are anything but accidental. Someone is attacking time travelers. As Bree and her temporal tagalong uncover seemingly unconnected clues—a broken bracelet, a missing data file, the art heist of the millennium—that lead to the person responsible, she alone has the knowledge to piece the puzzle together. Knowledge only one other person has. Her future self.
But when those closest to her become the next victims, Bree realizes the attacker is willing to do anything to stop her. In the past, present, or future.
Release Date: October 21, 2014
I really wish that there could be more time travelling stories that are as good as Loop.
Things that worked:  Akins manages to place the reader immediately in the action of the narrative, without leaving the reader behind with such fast pace explanations of time travel.  Not going to lie though, having musket fire on the first few pages really had me wondering what it was I was getting myself into. Basically, in what is "our" present, there are time travelers called Shifters who can move back and forth in time, because their bodies are just built for it through genetics.  There's a whole education system built around these abilities, and evidently some kind of prejudice against them based out of jealousy.  I kind of wish that had been more explored, rather than leaving everything up to the mystery leading to the turning point.
I really liked that Bree had a very strong voice throughout the novel, and that while her story continued to evolve she kind of faught it tooth and nail.  I know, we are supposed to want a character to grow and become their true self through the course of a novel, but man, it was fun watching her try to resist all of the trouble that life and time kept throwing at her.
Akins' debut novel manages to handle time travel without being super convoluted, and with specific rules that remind me of Doctor Who.  Granted, some of Bree's "accidental" encounters can be arguably more Marty McFly-esque than The Doctor.  Although, I'm pretty sure the Doctor (minus all of his interactions with himself in specials) would warn pretty harshly against messing with events in her own timeline, but Bree still manages to do this…and it is a tad confusing.  I understand that it was the point to be confusing, but it also felt really bogged down in some places.  There is a sequel coming, but when we essentially learned what is in Bree's future in Loop, then something drastic is definitely going to go down.
Also, Bree & Finn: That one comment was very Rose and the Doctor.
Fun and fast read, even if I did have to stop and make sure I knew which timeline was happening.
4 Bards.
ENTER TO WIN A COPY OF LOOP.
a Rafflecopter giveaway
(US ONLY GIVEAWAY)