Please welcome the newest member of Team Midsummer: Liz! Liz met Lyv way back at a To Write Love On Her Arms conference and they stayed in touch.  Then, as Jess and Lyv became friends, Jess and Liz "virtually" met via Tumblr, and finally met in person at YallFest 2016.  Give a big welcome to her and help us celebrate her first official review:
About Liz:
Liz is a History major with a double minor in archaeology and statistics, who is currently on a hiatus from going to school. Her first love is history but her second love is reading. She didn't get into reading until she was 21 and she found comfort and courage in the characters. The series that really started her love of books was Throne of Glass by Sarah J Maas. Romance novels are her guilty pleasure but her real love is YA books. Some of her favorite books are Crooked Kingdom by Leigh Bardugo, A World Lit Only By Fire by William Manchester and of course literally anything Sarah J Maas writes.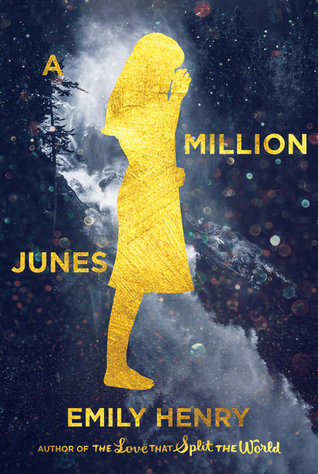 In their hometown of Five Fingers, Michigan, the O'Donnells and the Angerts have mythic legacies. But for all the tall tales they weave, both founding families are tight-lipped about what caused the century-old rift between them, except to say it began with a cherry tree.
Eighteen-year-old Jack "June" O'Donnell doesn't need a better reason than that. She's an O'Donnell to her core, just like her late father was, and O'Donnells stay away from Angerts. Period.
But when Saul Angert, the son of June's father's mortal enemy, returns to town after three mysterious years away, June can't seem to avoid him. Soon the unthinkable happens: She finds she doesn't exactly hate the gruff, sarcastic boy she was born to loathe.
Saul's arrival sparks a chain reaction, and as the magic, ghosts, and coywolves of Five Fingers conspire to reveal the truth about the dark moment that started the feud, June must question everything she knows about her family and the father she adored. And she must decide whether it's finally time for her—and all of the O'Donnells before her—to let go.
I feel like it should be known i have never been a big fan of Romeo & Juliet. Their relationship is unrealistic.  I typically try to avoid books that have the Romeo & Juliet storyline, but I received an ARC so I decided to give it a try anyway.  I am so glad I gave it a try!
A Million Junes follows June(her real name is Jack but everyone calls her June) and Saul and their desire to be together but mainly needing to know why their families hate each other. Which leads them to learning why and how their families are cursed. Finding out what the curse is, is a whirlwind adventure.  Although it might not keep you on the edge of your seat, it does keep you interested.
When I first found out Saul was 21 I was worried this would be a book about a man much older than the main character because June is still in high school. For me, I automatically get worried when a book mentions age differences specifically if one of those people are in high school.  If the characters are not consenting adults or at least both in high school, I will put a book down and never pick it up again.  But it turns out June is 18. The fact that the main characters are two consenting adults is wonderful (compared to Juliet being 13 and Romeo being an age that is never disclosed, but we can assume is older than Juliet).  
When I first started this book I expected everyone to die (how could I not?! The description said it was like "Romeo & Juliet.").
SPOILER ALERT:
I was happy when nobody ended up dying but enough does happen where for most of the end you expect one of the characters to end up dead.  The more information you get about the curse the more you assume someone is going to die. There is simply no avoiding it. A Million Junes didn't fall into the YA cliche of "and they lived happily ever after."  There is still room for these characters to grow but you don't feel like you are being left with a cliffhanger.  If the author wants to write a sequel she could, but I think where it ended is a good place.
My favorite quote from A Million Junes was :
"'June, Moments are like cherries.  They're meant to be relished. Shared – not hoarded.  You can clutch one terrible moment or experience all the rest.  Your life is slipping past in brilliant little bits…'"
I am someone who spends a lot of time thinking more about the bad memories than the good. This quote made me realize I am missing out on so many good memories by holding on to the bad ones. There is absolutely nothing wrong with letting the bad memories go and living in the now and enjoying your life as much as possible. I feel like part of the reason I enjoyed reading about June so much was because of the journey she went on and the growth she experienced.
This book was a happy surprise for me.  I am so pleased I picked it up and gave it a chance.
3.5 Bards!
You can pre-order A Million Junes now!