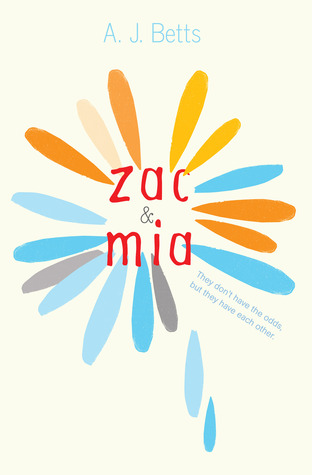 "When I was little I believed in Jesus and Santa, spontaneous combustion, and the Loch Ness monster. Now I believe in science, statistics, and antibiotics." So says seventeen-year-old Zac Meier during a long, grueling leukemia treatment in Perth, Australia.
A loud blast of Lady Gaga alerts him to the presence of Mia, the angry, not-at-all-stoic cancer patient in the room next door. Once released, the two near-strangers can't forget each other, even as they desperately try to resume normal lives. The story of their mysterious connection drives this unflinchingly tough, tender novel told in two voices.
Release Date: September 2, 2014
I recently finished reading The Fault in Our Stars.  When I picked up Zac & Mia and realized I was reading another teenage cancer novel, I was reluctant to continue reading.  I assumed I already knew the story and the final outcome.  Well…I was wrong.
This is not another sappy teenage love story.  Yes, there is an undertone of young love but this novel chooses to focus on relationships in general.  The bond between family.  The bond between friends.  The bond between total strangers.  The bond we have with ourself.  I felt that I knew most of the characters well but could have used a little more depth with a few of them.
The author does a good job of connecting with the reader by using modern pop-culture references.  Any book that mentions Lady Gaga and Harry Potter is OK by me.  There was one line that I really loved.  "When an animals kicking and fighting the most, that's the time you need to pull it closer."  This sums up the book for me.  Sometimes people, myself included, act out…resisting and fighting love, friendship and intimacy.  Zac & Mia taught me to just pull closer.
This novel would not have been my first choice for a summer read but I am glad I read it.  If you liked The Fault in Our Stars you should most definitely read this because I enjoyed it twice as much.
5 Bards