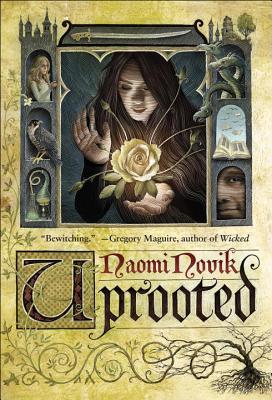 Agnieszka loves her valley home, her quiet village, the forests and the bright shining river. But the corrupted Wood stands on the border, full of malevolent power, and its shadow lies over her life.
Her people rely on the cold, driven wizard known only as the Dragon to keep its powers at bay. But he demands a terrible price for his help: one young woman handed over to serve him for ten years, a fate almost as terrible as falling to the Wood.
The next choosing is fast approaching, and Agnieszka is afraid. She knows—everyone knows—that the Dragon will take Kasia: beautiful, graceful, brave Kasia, all the things Agnieszka isn't, and her dearest friend in the world. And there is no way to save her.
But Agnieszka fears the wrong things. For when the Dragon comes, it is not Kasia he will choose.
I am quite sad that it took me this long to read this novel, especially after seeing how much fellow book bloggers love it and recommend it.  I can see that there was not one bit of exaggeration in this, because I absolutely adored this book.
Novik has created something so rich here, as deep and vast as the Wood that surrounds the Valley where Agnieszka and Kasia live.  The story world is developed without being bogged down by excessive narration or description, and the characters are so fully realized that I felt I was watching Agnieszka's story unfold in front of me.
The relationships between the characters are something that I found absolutely fascinating.  Agnieszka and Kasia's
friendship seems to unburdened and easy at the beginning of the story, despite the assumption that Kasia will be selected by the Dragon to go and live in his tower for ten years.  However, when Agnieszka is chosen and Kasia *SPOILER ALERT* taken by the Wood, the secret resentment and underlying hate that comes out when trying to save one another was so heartbreakingly realistic and somehow beautiful, that their friendship not only survives but becomes stronger.
The Dragon, Sarkan, is grouchy, set in his ways, and easily frustrated, but he still is likable despite all of these traits.  I do find him unbearable at the moments where he is rude to the main character, but I think it comes from the confusion he finds in her magic, and the confusion in his feelings for her. Agnieszka took him by surprise, and it is obvious that he resents that very much.
Story-wise, Uprooted is very much in the vein of the old epic poems, which are mentioned a handful of times in the novel, and it flows like a beautiful song.
I was blown away by this novel, and it was a perfect beach read for my vacation, one that helped me forget the heat and the humidity, but took me away to a beautiful tower, village, and enchanted Wood.
Highly recommend.
4.5 Bards